Interview with Anne Butterly for IWD 2023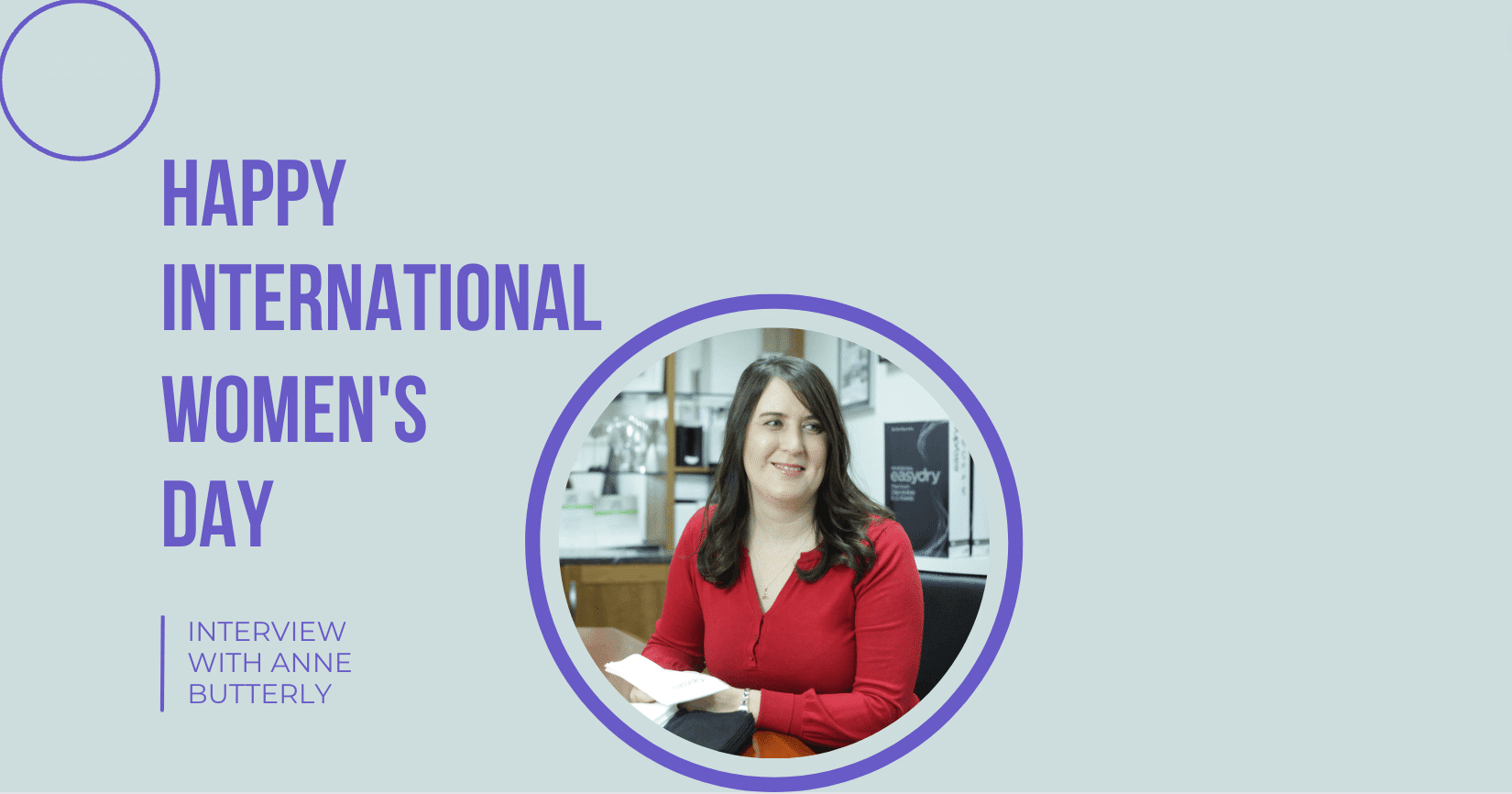 Interview with Anne Butterly for IWD 2023
Check out our interview with Anne Butterly for IWD 2023! In honour of International Women's Day, the Easydry team wanted to celebrate Anne Butterly, the female founder and CEO of Easydry. The whole team compiled a list of questions to find out more about her entrepreneurial journey and mindset.
Could you tell me about the journey that led you to starting Easydry?
My father was an entrepreneur and my mother was an educator. Growing up, my family valued education and entrepreneurialism. I studied business and marketing in college and worked for a few years to build my industry experience. Spending time with friends, I was inspired to create Easydry – the worlds first eco-friendly disposable towel. With the support of family, friends and my Easydry team, Easydry has grown from a single product to a company with global reach.
How has Easydry made a positive impact on the planet?
I knew from the very beginning that any product I created, had to be more eco-friendly than the products it displaced. Ireland was ahead of the curve and banned plastic shopping bags and I saw the positive impact that change had. It took a lot of time and research but the products I created, were more sustainable than the products they displaced like out-dated cotton towels.
Easydry disposable towels are FSC certified and we have recently celebrated the 10th anniversary of our FSC certification. This certifies our entire supply chain which is a difficult feat. In addition to this, in recent months, we have been granted the following certifications: OK Compost Home, OK Compost Industrial and Seedling.
2021-2022 we decided to become a B Corporation. B Corps focus on not just profit but on people, planet and profit. This philosophy was always at the heart of what I do, but getting B Corp certification would allow me to demonstrate that  globally. My team and I worked very hard and we were delighted to announce in 2022 that we were the worlds first eco-friendly disposable towel company to become a B Corporation.
https://www.bcorporation.net/en-us/find-a-b-corp/company/easydry
I'm incredibly proud that the Easydry logo is included with those of dozens of other B Corp Female Founders on the Coutts and Co window in London. This is a fantastic way for us to celebrate being a B Corp and to celebrate International Women's Day 2023!
Why do you think it is important to celebrate International Women's Day?
International Women's Day (March 8) is a global day to celebrate the social, economic, cultural, and political achievements of women. As they say: "Imagine a gender equal world. A world free of bias, stereotypes, and discrimination. And world that's diverse, equitable, and inclusive. A world where difference is valued and celebrated. Together we can forge women's equality. Collectively we can all #EmbraceEquity."
https://www.internationalwomensday.com/
Celebrating women's achievements and increasing visibility, while calling out inequality, is key. I am happy to speak about my achievements as a female founder and to continue to fight for visibility and to fight against inequality.
Have you faced any barriers in your career due to being a woman? If so, how did you overcome them?
My family, especially my father and brother supported my journey to found my own company. I am lucky to have come from such a supportive entrepreneurial background. However, I still faced may barriers on my journey. I did business in countries where I was ignored or where I asked a question and they directed the answer to my brother! All of this made me stronger as a person and it made me more aware of the inequality that exists.
In addition to my supportive family, I took part in the Vital Voices GAP Programme several years ago. Not only did this develop me as a business person, it also provided me with an incredible network of supportive men and women. "Vital Voices Global Partnership is a non-profit founded on the simple idea that nations and communities cannot move forward without women's voices in leadership positions." I am proud to be part of this organisation and I am fortunate to have received their support and to have provided support to other women in turn.
How can we encourage more women to pursue entrepreneurship?
As they say: "If you can't see it you can't be it." Whenever I get an opportunity, I am delighted to speak about my experiences and what I have learned on my journey so far. Having taken part in podcasts, newspaper articles, radio interviews and stage shows, I can definitely say I enjoy sharing my experience.
Is there anyone that inspires you in your career?
My parents were my original inspiration. From them, I have been given a love for entrepreneurialism and for lifelong education. My Vital Voices sisters form such an important network for me with support and inspiration from women around the globe in diverse businesses.
If you could have dinner with three inspirational women, dead or alive, who would they be and why?
That's an incredibly difficult question but I suppose my answer is, why only three women? Let's invite more women to the table! Here are several incredibly inspirational women, in no particular order.
For scientific curiosity: I think Marie Curie would have been incredibly interesting to spend time with. In the movie "Hidden Figures" I was enthralled by the story of Kathrine Johnson, an African American mathematician who worked with NASA for almost 30 years. It was inspirational to see in 2015, President Barack Obama award Johnson with the Presidential Medal of Freedom.
In terms of activism: I am always inspired by the courage of Malala Yousafzai, the determination of Greta Thunberg and the passion of Jane Goodall.
With regard to politics, Jacinda Ardern was an incredible leader in New Zealand. She did so with compassion, grace and dignity. Ruth Bader Ginsburg was simply iconic! I love how graceful, dignified and articulate Michelle Obama is. How she navigated two terms as first lady while also raising two incredible daughters in the spotlight is incredible.
Do you have advice for women starting out in business?
Here is my advice to any female founders starting out on this journey:
Focus at the start on education and then experience. Learn as much as you can.
Build a strong network of contacts – focus on building genuine connections.
Be open to opportunities and focus on the positives!
Question everything! If we are not questioning, we are not learning and not changing anything!
What's the next step for Anne Butterly?
The past few years have been difficult so I am looking forward to growing my business in every sector and around the globe. My incredible Easydry team are working on a number of projects and I'll be sharing some exciting announcements very soon.  Watch this space!
To shop the Easydry Range, click HERE.