Easydry CEO Anne Butterly on Hear me See Me Podcast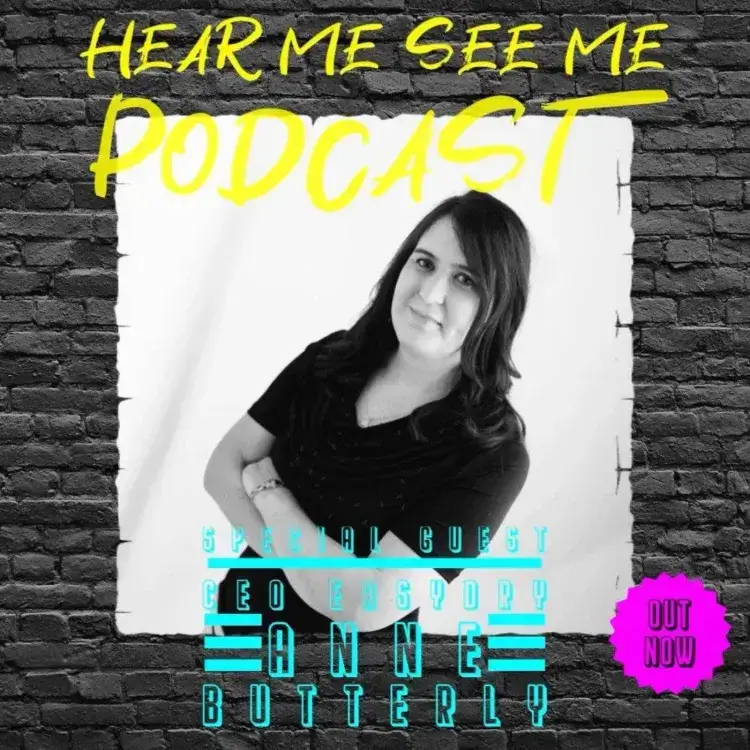 Introduction to our blog about Easydry CEO Anne Butterly on Hear me See Me Podcast:
In a new episode of the "Hear me See Me" podcast, hosted by Haircuts4homeless, the founder and CEO of Easydry, Anne Butterly, shares her inspiring journey and highlights the impactful work being done by this charity. As a proud supporter of Haircuts4homeless, Easydry recognizes the profound difference this organization makes in the lives of the homeless community. In this blog, we delve into Anne Butterly's appearance on the podcast, her dedication to making a positive change, and Easydry's commitment to supporting this noble cause.
The Hear me See Me Podcast:
The "Hear me See Me" podcast, presented by Haircuts4homeless, shines a spotlight on individuals who have made a significant impact in the community and beyond. By sharing personal stories, challenges, and triumphs, the podcast aims to raise awareness about homelessness and promote understanding and empathy.
Anne Butterly's Inspiring Journey:
Anne Butterly, the passionate entrepreneur and founder of Easydry, a leading provider of eco-friendly disposable towels, joins the Hear me See Me Podcast to discuss her entrepreneurial journey and her dedication to social responsibility. As the CEO of a successful company, Anne's commitment to supporting Haircuts4homeless is rooted in her desire to create positive change and help those in need. This ties in with Easydry being a B Corporation – showing that they don't focus on profit, they also look at people and the planet.
Easydry's Support for Haircuts4homeless:
Easydry, as a company, shares Anne Butterly's vision and actively supports Haircuts4homeless. Recognizing the importance of hygiene and personal care, Easydry provides eco-friendly disposable towels to Haircuts4homeless, ensuring that the hairdressers and barbers involved in the charity can offer clean and hygienic haircuts to the homeless population.
Haircuts4homeless: Empowering Change through Haircuts:
Haircuts4homeless is an incredible charity that provides haircuts to homeless people across the United Kingdom. By offering this simple act of kindness, the charity not only improves the physical appearance of individuals but also restores dignity and boosts self-esteem. These haircuts can often be the first step towards transforming lives and opening up opportunities for the homeless community.
Anne Butterly's Dedication to Social Responsibility:
Anne Butterly's appearance on the Hear me See Me Podcast reflects her strong commitment to social responsibility. By engaging with the Haircuts4homeless initiative, Anne and Easydry actively contribute to improving the lives of homeless individuals, one haircut at a time. Through her leadership, Anne inspires others to embrace philanthropy and recognize the importance of giving back to society.
Easydry: A Company Driven by Sustainability and Social Impact:
Easydry, under Anne Butterly's leadership, has established itself as a pioneer in sustainability within the hair and beauty industry. By creating disposable towels that are not only biodegradable but also highly absorbent and hygienic, Easydry has revolutionized the industry's approach to waste reduction. Through their support of Haircuts4homeless, Easydry exemplifies its commitment to social impact and giving back.
Conclusion:
Anne Butterly's appearance on the Hear me See Me Podcast shows her dedication to making a positive difference in the world. As the CEO of Easydry, she embodies the values of social responsibility and sustainability, supporting Haircuts4homeless in their mission to restore dignity and transform lives through haircuts. Easydry's commitment to this cause aligns with their broader vision of driving positive change in the hair and beauty industry. Together, Anne Butterly and Easydry serve as an inspiring example of how businesses can make a meaningful impact on society.
Useful Links:
Hear Me See Me Podcast – click HERE.
Haircuts4Homeless Link – click HERE.
Shop the Easydry UK Range, click HERE.